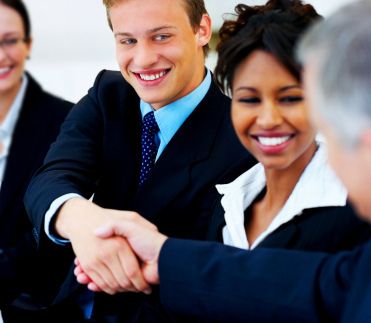 Networking goes beyond shaking hands and passing out business cards. In order to achieve the highest level of professional success, you need a strategy to actively develop and maintain solid business relationships. Some people are effortlessly able to implement methods for reaching out, while others need assistance from professionals like career coaches to come up with successful networking strategies. In either case, becoming a master at networking takes skill, time and dedication. Below are some suggestions to enhance such skills.
Form a Great First Impression
It is a known fact that most if not all successful business people have extensive, reliable networks. In order to gain reliable connections, you must prove worthy of receiving others' trust. Professional trust is earned by being authentic. Even during an initial face to face interaction you should be engaging, honest and genuinely concerned with not only your personal business objectives, but also those of others as well. When considering adding someone new to your network, you should keep your personal objectives in mind, but also set out to help them reach their goals too.
Hire a Coach
If you are networking for the purposes of obtaining a new job, a career coach may be able to assist you accordingly.  An experienced, quality coach has made their successes and mistakes along the way and will know what it takes to get things done. They can help implement a solid networking plan by listening to your goals. They can also assess your strengths and weaknesses. A coach will be with you every step of the way until you have a foundation that allows you to build the relationships that will benefit you the most.
Practice Positivity
Someone with a constant negative outlook on life will find it difficult to network successfully. On the other hand, someone with a positive perspective can more easily present fresh ideas and even make people feel good in their presence. One of the best networking characteristics is to have a pleasant disposition along with a genuine enthusiasm that others can feel. A positive demeanor sells a personality without the sales pitch.
Share Knowledge
When you're networking, sharing key information with others can cause them to view you as an asset. Although you want to gain connections that will be beneficial, you won't gain them by taking information and not dispersing any. Furthermore enlightening another person can cause them to mention your name to other people you haven't met. They may also seek you out in the future.
The knowledge-sharing trend has been tried and proven in social networking with the popularity of information exchange through shares, likes, tweets, etc.  All yield opportunities for you to share ideas and be viewed as a resource within your group of friends, connections or followers. A person willing to share their passion and thirst for what they do can breed respect in today's competitive marketplace. This practice works in professional networking building, both online and off.
Value Others
You can show that you respect and value other business professionals by taking the time to remember pertinent information about them and connect them to other people that need their services. Your network will appreciate your proactive efforts to send business their way. This is yet another excellent way to earn their trust and potential business and/or return referrals in the future.
Follow Up
The most important part of mastering your networking plan is to follow up. Someone may have formed a positive initial impression of you, but if they never hear from you again, the thought of you and your services or products will flee quickly.  There are not only many distractions to compete with where customers are concerned, but also in the area of business connections. The process of implementing a plan to touch base and stay in contact with the individuals that you meet will prove invaluable long-term.
When it comes down to it, the factors you use to develop a networking strategy will be specific to you. For example, a person seeking a new employment opportunity may focus more on the art of making a great first impression, but a business owner may see more value in sharing information online to become a valued authority source for their industry. Whatever, the method, a committed effort to develop an overall strategy and approach to master networking will most certainly pay off.

J. L. Williams is aware of the power of networking and appreciates sharing successful tips for others that also recognize its importance. She has found utilizing the services of career coaches, such as those found at Noomi.com to be a great asset when motivation and disciplined goal setting for networking purposes is needed.
Photo Credit:http://www.flickr.com/photos/freelancersunion/4910331875/
Image credit: thetaxhaven on Flickr